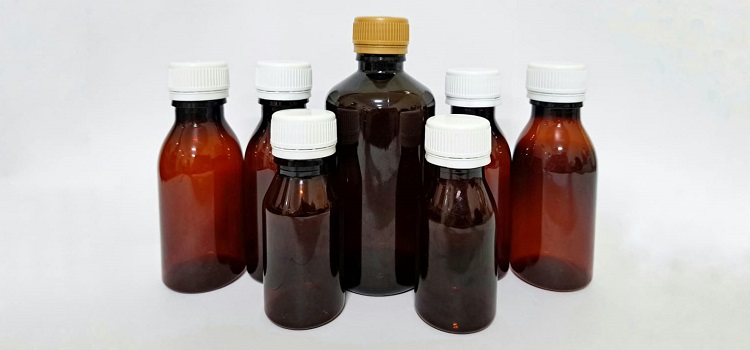 PET (polyethylene terephthalate) is a polymer that belongs to the polyester group. Developed in the 1970s as a raw material for bottle manufacturing, it was only used in packaging for carbonated beverages (soft drinks). In recent years, PET bottles have also gained popularity as packaging for drinking water, cooking oil, and medicine. For use as medicine packaging, the manufacturing process of PET bottles must not contain heavy metals.
To achieve the ideal utilization of the packaging, it is important that each plastic package (PET bottle) meets the requirements of quality standards, as follows:
Protects the dosage forms from deterioration and the effects of various environmental conditions

Be Inert, i.e. non-toxic, odorless, and tasteless, and non-reactive to the product

Successfully obtained validation from the FDA (Food and Drug Administration). Proven to pass stability testing to protect dosage form quality, identity, strength, and purity throughout the expiration period

Adaptable to high-speed packaging machines
Nowadays, PET bottle packaging is gaining widespread use in the pharmaceutical industry. In addition to meeting quality requirements, PET also has transparent and colorless properties, allowing the contents of the formulation to be seen.
PET shows good resistance to several chemicals, such as Vaseline, Paraffin, Mineral Oil, Castor Oil, Ammonium Chloride (pure-solid), Ammonium Sulfate (pure-solid), Benzoic Acid (pure-solid), Butane (pure-liquid), Glycerol (pure-liquid) Propylene Glycol (pure-liquid), Salicylic Acid (pure-solid), Zinc Chloride (pure-solid), and etc.
Medion Plastic is trusted by pharmaceutical companies in Indonesia as a supplier of PET bottle packaging. Through continuous innovation and product development, Medion Plastic is committed to meeting the needs of PET bottle packaging for the pharmaceutical industry in Indonesia.
Sumber :
https://www.petcore-europe.org/images/news/pdf/factsheet_the_facts_about_pet_dr_frank_welle_2018.pdf

https://www.researchgate.net/publication/351379300_Plastics_Packaging_for_Pharmaceutical_Products
Understanding the Development and Characteristics of PET (Polyethylene Terephthalate) Bottles